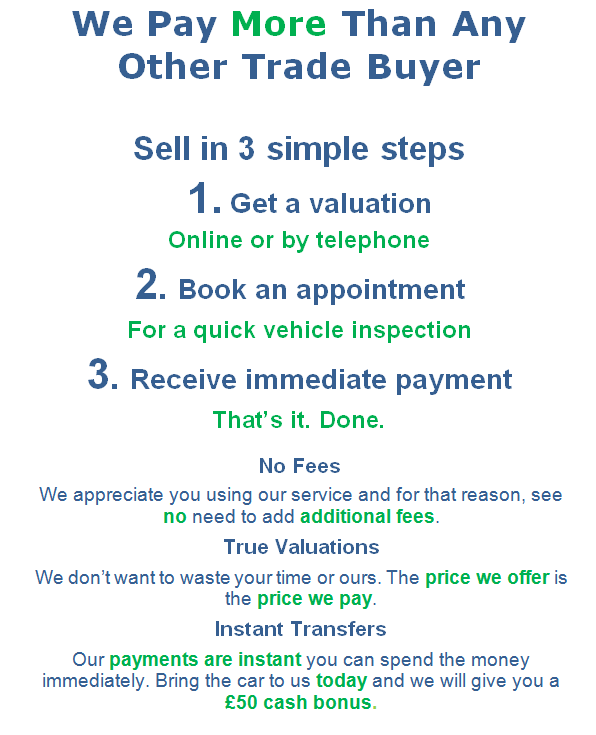 How do I sell my car quickly and easily?
You are wondering 'How do I sell my car and get money today?' Selling your vehicle has never been quicker, safer or more simple!
If you are ready to sell your car, we carry out a light inspection to confirm the value. This can be done at our site in Camberley, or at your home address.
If everything is in order… You will have sold your car.
The process is usually complete within the hour, money transfer included.
For an online valuation complete the form above.
Alternatively call us on 01276 28001

Want to Sell Your Car
m3commercials are the trusted name in private car trades and provide you with a quick and easy way to sell your car and get the payout that same day! You only need to take three simple steps to sell your car today;
Get a valuation – either online or by phone
Book an appointment for a quick vehicle inspection
Provide bank details and receive payment
In theory this can all be done within the hour – so if you want a guaranteed, hassle-free way to sell your car today call m3commercials now – 01276 28001
Sell My Car – Get a Valuation
You can get a valuation online or over the phone because we have access to software and a database that calculates the value of any car based on the certain information that is entered. The valuation is generally good for about four weeks and is known as a trade price. This trade price is subject to inspection so the next thing to do is book the inspection.

Selling Your Car – Book an Inspection
Once the car has been valued it now needs to be confirmed with an inspection. You can have the inspection at a location of your choosing, or you can bring your car to m3commercials and enjoy a complimentary* taxi home. Obviously the inspection is carried out to verify the online, or telephone, valuation and depending on the findings the valuation may go up or down. At the inspection you will need to produce;
The vehicle logbook (V5 Registration Document)
Service history (If applicable)
Past maintenance records, invoices and MOTs (If applicable)
Once the inspection is completed you will be informed of the confirmed valuation figure and you are then ready to complete the deal and receive payment.

Sell Your Car – Receive Payment
We use the FPS system (Faster Payment Service which is accepted by all the major high street banks) to make payments by bank transfer.
This is the easiest and most secure method, protecting you from the risk of carrying around cash or waiting for a cheque to clear.
The transfer is made immediately and unless specified in the terms of the sale, m3commercials will not take ownership of the vehicle until the payment has cleared in your account. The whole selling process is often completed within an hour making your life much easier and putting money in your pocket just when you need it.
If you need a quick and easy way to sell your car today call m3commercials now – 01276 28001 Or complete the form above to get started.
*up to £50 value and subject to conditions